Pacific Rim Buffet
Signature Mai Tai
"Polynesian Journey" Show
3-Course Dinner
Signature Mai Tai
"60 Years of Aloha" Show
5-Course Dinner
"Champagne" Toast & 2 Premium Beverages
Jazz During Dinner & "60 Years of Aloha" Show
Captain's Welcome Reception
7-Course Dinner Private Table
Bellini & 3 Super Premium Beverages
Bon Voyage Hula & Live Jazz Show
Experience Whale Watching in Hawaii, one of the most popular activities in the winter! Cruise in the comfort and safety of the Star of Honolulu, Hawaii's largest vessel for optimal whale encounters, and discover Oahu's incredible natural beauty with our knowledgeable captain and a team of certified naturalists. This season, bring the whole family with our Child Free Special and learn more about our Whale Guarantee. Book today for cruises from 1/2/22 - 3/31/22.
Star of Honolulu reservationists recommend their top picks for high value limited time specials and the best deals on Oahu from the STAR and our sister brands, Rock-A-Hula and Royal Star Hawaii Trans & Tours!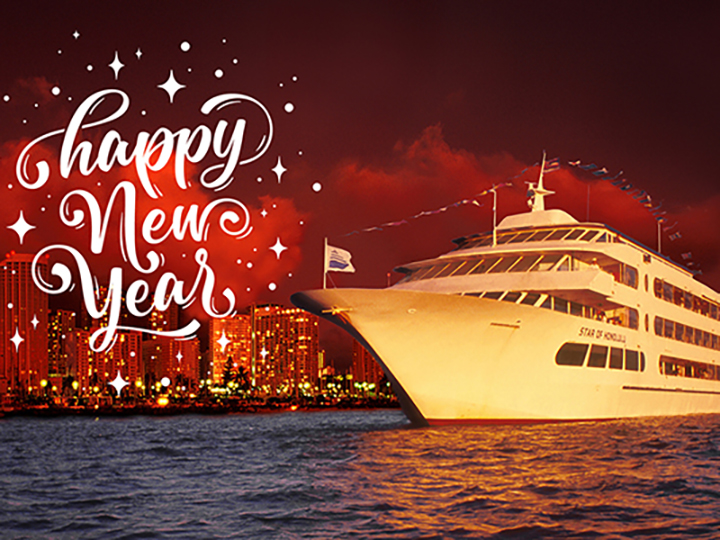 New Year's Eve
Celebration Cruise
Star of Honolulu 12/31/21Sells Out, Book Early!
Welcome the New Year on the Star of Honolulu! Enjoy the best ocean views of Waikiki's city lights, a 3-Course Whole Maine Lobster & Steak Dinner, the largest cast show on the ocean, "champagne" and party favors!