How to Shell and Eat a Lobster
If you're a lobster enthusiast, make sure to book the Star of Honolulu's Three Star Sunset Dinner & Show cruise during your next vacation – you'll be glad you did!
The STAR procures wild-caught Maine lobsters, each weighing over one pound and harvested during the prime season in the cold waters of Nova Scotia. With expert preparation in the STAR's own commercial kitchen, guests are treated to exceptionally fresh and succulent lobster meat.
Here's a step-by-step guide on how to shell and enjoy your whole lobster:
1.  Begin by using both hands to twist and separate the head from the tail.

2. Break and remove the tail carefully.
3. Utilize the cocktail fork to lift the meat from the tail.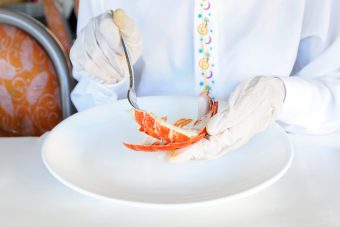 4.  For the claw, start by twisting off the movable portion.
5. Use a seafood cracker to crack open the claw.
6. Remove the claw meat with the cocktail fork.
7. Enhance the flavor by squeezing lemon juice over the lobster and dipping it in clarified butter or citrus soy sauce.
8. If you're feeling adventurous, you can even savor the "tomalley" (lobster liver), which is considered a delicacy and the favorite part for many lobster enthusiasts.
9. Don't forget to explore for additional meat in the legs and compartments of the lobster's head.
By following these steps, you'll be able to savor every delicious morsel of your lobster and make the most of your Three Star Sunset Dinner & Show cruise experience aboard the Star of Honolulu.
Enjoy!